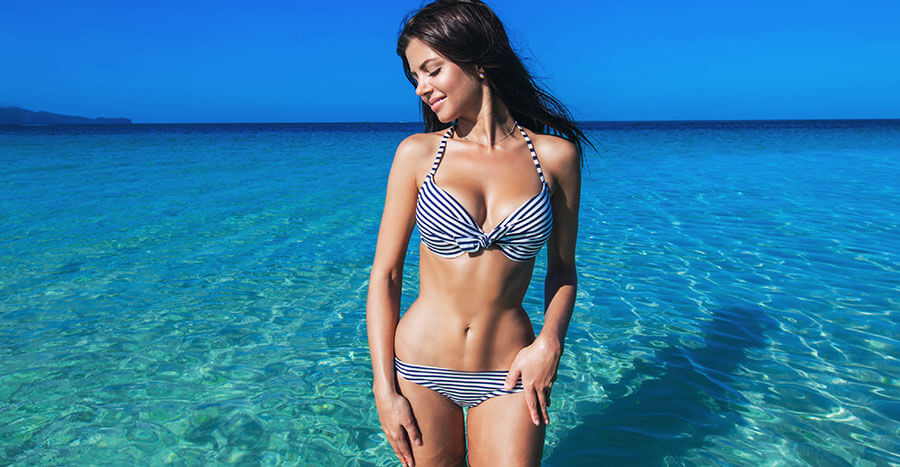 Are you struggling to achieve a toned, flat abdomen after losing weight or having a baby? Excess skin and pockets of fat can detract from the fit, attractive look you desire. Residents of Philadelphia have discovered that abdominoplasty by Dr. Mark Solomon can be the helping hand they are searching for to refine their look.
IMPROVEMENTS FROM TUMMY TUCK SURGERY
Residents of Philadelphia choose tummy tuck surgery, technically called abdominoplasty, to enhance the look of their abdominal area including the waist and hips. This procedure can provide the following improvements:
Removing loose skin and excess fat from the front of the abdomen
Sculpting the waistline
Flatting a protruding abdominal profile
Tightening stretched or separated abdominal muscles
Many of our patients combine liposuction, breast augmentation, or other cosmetic procedures with their tummy tuck surgery for a more comprehensive body enhancement with one recovery period. Dr. Solomon is happy to discuss the possible combinations with you at your personal consultation.
MINI-ABDOMINOPLASTY
Some patients who are mainly dissatisfied with their abdominal area below the belly button and whose abdominal muscles have not separated can achieve pleasing results from the "mini-abdominoplasty." This less invasive procedure involves a shorter incision and a reduced recovery period for our Philadelphia patients than the traditional tummy tuck. During your private consultation Dr. Solomon will perform a brief physical examination to determine whether this procedure is an option for you.
PROCEDURE & RECOVERY
Dr. Solomon usually performs tummy tuck surgery as an outpatient procedure under general anesthesia. Standard abdominoplasty takes between two to three hours to complete, while mini-abdominoplasty takes about an hour or two. You will need someone to drive you home and assist you for a few days after your procedure. Dr. Solomon's unique methods avoid the drains that most other surgeons place, enhancing your mobility after the procedure.
Over the first week after tummy tuck cosmetic surgery in Philadelphia, your abdomen likely will be swollen and feel sore. Dr. Solomon will instruct you to begin standing and walking around within the first day or two to encourage healing. He will also instruct you to avoid lifting, bending, and straining your abdominal muscles. You will need to wear a compression garment for the first few weeks to minimize swelling and to promote a flat abdominal contour. Pain can be controlled with prescription medication.
Your recovery time will depend on the extent of your surgery and the condition you were in before the surgery. Patients who are physically fit at the time of surgery usually recover quickly. Most patients are able to return to light activity, including work, within the first three weeks.
RESULTS
When chosen with realistic expectations, Dr. Solomon's Philadelphia tummy tuck patients are usually very pleased with their results. Most patients are no longer self-conscious in fitted clothing and swimwear. They enjoy increased self-esteem from looking more healthy and fit.
Contact Us Today or Visit our Philadelphia & Beverly Hills, Los Angeles Clinics
Are you ready to find out more? Consult with board-certified plastic surgeon Mark P. Solomon, MD, FACS, or call his office at 610-667-7070 or 310-299-3553. He sees patients from the Tri-State area, including Philadelphia, New Jersey, and Wilmington. Request for a consultation online or book a consultation at any of our clinics near you:
– Beverly Hills, Los Angeles (LA), California (CA) – Bala, Cynwyd, Philadelphia (PA)
We look forward to hearing from you!
Breast Augmentation
by Dr. Heather
Apr 5,2021
Hello! Ok, let me start by saying that Dr. Solomon is THE BEST. The reason I stand behind 5 stars is simple. I received a breast Augmentation 17 years ago and everything went beyond well. Not only did my breast look fabulous they still look fabulous after 17 years. I just left his offices for my 2nd check up in the past 17 years and they look and feel like they did when they were new. Not only did the check up cost ZERO dollars the but the cander and expertise are priceless. Look no further. Dr. Solomon is extremely honest and won't do anything that won't be perfect. Thanks DOC you Rock!
Category: reviews
Powered by Crystal Clear Digital Marketing Reviews