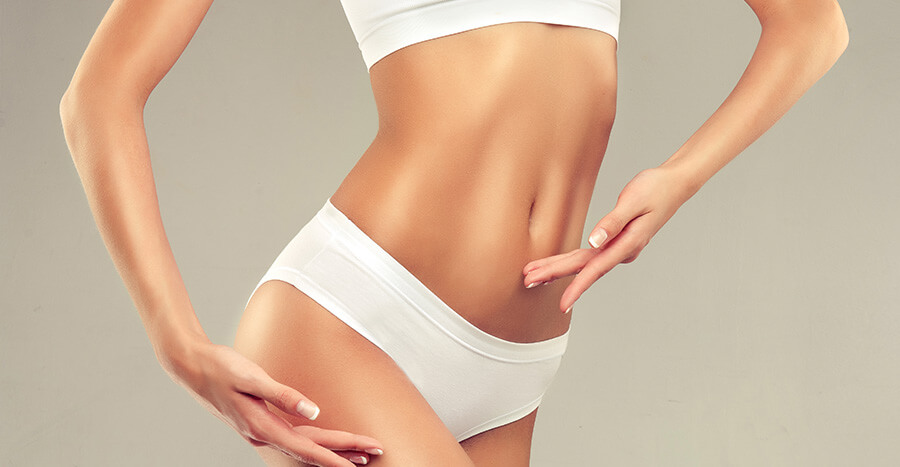 A firm, smooth stomach is something that many men and women strive for. However, it can be difficult for some to attain this through diet and exercise alone, especially as the body's metabolism slows, which is a normal part of the aging process. Other factors that affect the abdominal fat and skin include genetics and pregnancy. An abdominoplasty restores a slimmer, more toned contour to the abdomen, resulting in a more youthful look. Dr. Mark Solomon understands how important it is to you to look your best, so call his office today to schedule a consultation and learn more about this procedure.
What Is An Abdominoplasty?
An abdominoplasty, also called a tummy tuck, is a surgical procedure that involves removing excess fat and skin from the abdominal area. A tummy tuck not only removes the causes of a protruding abdomen, but it can also restore abdominal muscles that have become weakened. Although being overweight can cause the abdomen to protrude or abdominal skin to sag, many people who opt for an abdominoplasty are within normal weight parameters. There are several causes of a protruding abdomen:
Pregnancy
Obesity or weight fluctuations
Genetics
Previous surgery including surgery for weight loss
Aging
An abdominoplasty involves the patient receiving anesthesia for duration of the procedure. The type of incision made is affected by what your goals for abdominoplasty, as well as your anatomy that Dr. Solomon finds on his physical examination. Dr. Solomon uses several different techniques for abdominoplasty and he individualizes his approach depending upon your goals. Many other surgeons always use drains after abdominoplasty, but Dr. Solomon often can perform your abdominoplasty without using drains. Liposuction may be used as part of your procedure if needed.
Dr. Solomon often performs abdominoplasty without the use of drains. This makes recovery easier and less complicated. This is unique, since most surgeons routinely use drains after tummy tuck surgery. To see if you're a candidate for a tummy tuck without drains, please contact one of our offices in LA or Philadelphia.
Am I A Good Candidate For An Abdominoplasty?
A tummy tuck can help men and women restore an abdominal contour that has lost its shape and firmness due to factors like weight fluctuation, age, and others. Although this procedure can drastically change the appearance of the abdomen, the best candidates are those that have attempted to diet and exercise, and whose weight is in or close to the normal range for their height. A tummy tuck is permanent, but it can be adversely affected by weight gain, pregnancy, or anything else causing a fluctuation in weight.
In general, men and women considering any surgical procedure should be healthy, be a non-smoker, and have realistic expectations about their results after the procedure.
Contact Us Today or Visit our Philadelphia & Los Angeles Clinics
Would you like to learn more about the abdominoplasty process and how you could benefit from this amazing procedure? Request for a consultation online or book a consultation at any of our clinics near you:
– Beverly Hills, Los Angeles (LA), California (CA) – Bala, Cynwyd, Philadelphia (PA)
We look forward to hearing from you!
ActivadorKeys is a comprehensive online platform that provides a wide range of software cracks, keygens, and patches for various applications. Our website offers a vast collection of cracked software, enabling users to access premium features without purchasing expensive licenses. With a user-friendly interface, navigating through our extensive library is seamless, allowing users to quickly find the software they need. We prioritize the security and safety of our visitors, ensuring that all cracked software files are thoroughly scanned for malware or any potential risks.
Breast Augmentation
by Dr. Heather
Apr 5,2021
Hello! Ok, let me start by saying that Dr. Solomon is THE BEST. The reason I stand behind 5 stars is simple. I received a breast Augmentation 17 years ago and everything went beyond well. Not only did my breast look fabulous they still look fabulous after 17 years. I just left his offices for my 2nd check up in the past 17 years and they look and feel like they did when they were new. Not only did the check up cost ZERO dollars the but the cander and expertise are priceless. Look no further. Dr. Solomon is extremely honest and won't do anything that won't be perfect. Thanks DOC you Rock!
Category: reviews
Powered by Crystal Clear Digital Marketing Reviews