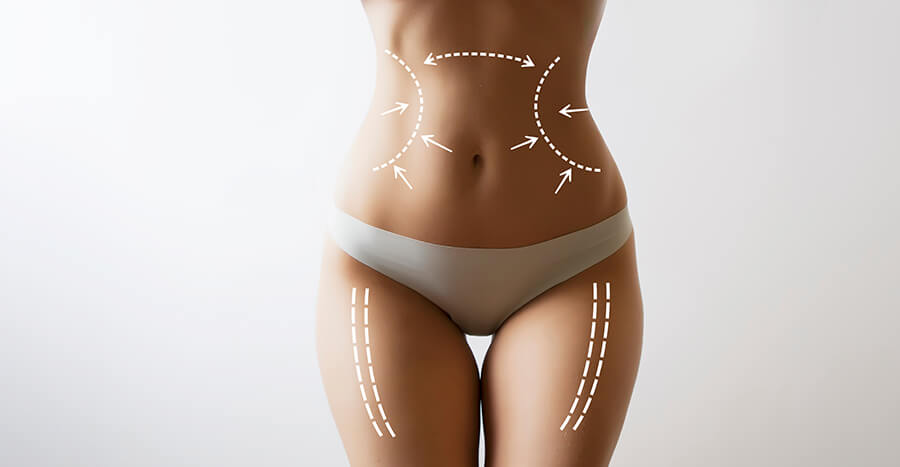 A lot of us strive to have the ideal body but are unable to achieve it despite proper dieting and exercise. Fortunately, through various types of surgery, we can alter certain aspects of our bodies and bring ourselves closer to that ideal. One such surgery is liposuction, which can help us achieve a slimmer and more toned body. If you are interested in this procedure, Dr. Mark Solomon has the expertise to help you. Dr. Solomon was one of the first surgeons in the United States to learn liposuction and has been performing this surgery for more than 30 years.
What Is Liposuction?
Liposuction is a surgical procedure designed to remove stubborn fat deposits from the body. Dr. Solomon perform's liposuction to address the following areas:
Chest
Back
Bra line
Upper arms
Abdomen
Pubic area
Hips and buttocks
Thighs
Neck
Is The Procedure Right For Me?
If you have areas of your body with stubborn fat that seemingly will not go away, then liposuction is an option you may consider. You should be at a healthy weight before considering the surgery because liposuction is not a substitute for a healthy diet and exercise regimen. The procedure is strictly meant to help with stubborn fat deposits that cannot be lost through normal means. It is not recommended for those who are obese and have not tried to change their health habits in order to lose weight. Liposuction is not a weight loss procedure.
What Results Can I Expect?
You can expect to achieve a more toned and contoured body shape. In addition, you will feel more confident with your body image and closer to your ideal self. The procedure is often used in conjunction with other forms of plastic surgery including breast surgery and facial surgery, depending on your desired results.
Contact Us Today
Liposuction is a great way to get rid of stubborn fat when all else fails. If you have tried everything else and still found yourself unable to achieve your weight loss goals, then it might be the best option for you. Contact us at the office of Dr. Mark Solomon to schedule your initial consultation today! We look forward to hearing from you!
Breast Augmentation
by Dr. Heather
Apr 5,2021
Hello! Ok, let me start by saying that Dr. Solomon is THE BEST. The reason I stand behind 5 stars is simple. I received a breast Augmentation 17 years ago and everything went beyond well. Not only did my breast look fabulous they still look fabulous after 17 years. I just left his offices for my 2nd check up in the past 17 years and they look and feel like they did when they were new. Not only did the check up cost ZERO dollars the but the cander and expertise are priceless. Look no further. Dr. Solomon is extremely honest and won't do anything that won't be perfect. Thanks DOC you Rock!
Category: reviews
Powered by Crystal Clear Digital Marketing Reviews