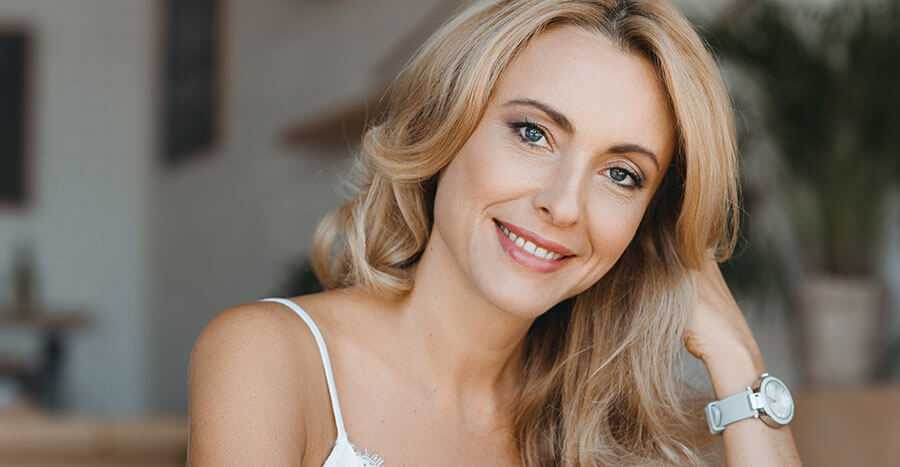 Loose skin, jowls and neck bands are visible signs of aging on the face and neck. Over time, many factors like sun damage, gravity, and heredity can lead to these and other signs of aging. A facelift, also called a rhytidectomy, is designed to reduce these signs of aging on the face and neck and create an improved facial contour. Because our face is part of the lasting impression that we leave with people, many men and women opt for facelifts to rejuvenate their appearance. Dr. Mark Solomon understands this and offers facelifting to help your aesthetic vision become a reality.
What Is A Facelift?
A facelift is a surgical procedure that targets several of the most common signs of aging in the face and neck, leading to a rejuvenated, more youthful appearance. Although not everyone who opts for this procedure has jowls or sagging skin, these and other signs are common with aging and are physical features that can instantly make one appear older.
Some of these common signs of aging include:
Deep lines around the nose and mouth
Sagging skin around the neck
Jowls
Sagging skin of the face
Thin, lined skin
Because the visible signs of aging will be different for everyone, Dr. Solomon will take your medical history, examine you and and discuss which type of facelift is best designed to meet your needs. Because he uses several methods of facial rejuvenation surgery, he can individualize his approach for your needs.
Common causes of loose and sagging skin of the face and neck:
Sun damage
Genetics
Gravity
Smoking
Aging
Weight Loss
Fat deposits in the face and neck
Am I A Good Candidate?
Because changes to the skin and face can be impacted by a number of factors, a facelift can drastically improve your face, but it does not freeze it in time. Age and other factors like sun exposure can continue to have an effect on your facial appearance. Dr. Solomon can help you with options for nonsurgical treatment of your facial skin to maintain the youthful appearance created after a facelift. By repositioning the tissues under your skin and removing exccess skin, Dr. Solomon can provide you with a more youthful appearance. Some patients require additional procedures to enhancce their facial contour including chin implants, cheek implants or fat grafting to enhance the final result.
There are many treatments available that can improve facial appearance and choosing the right one isn't always easy. Dr. Mark Solomon knows we all want to present our best face to the world, so call him today to schedule a consultation.
Breast Augmentation
by Dr. Heather
Apr 5,2021
Hello! Ok, let me start by saying that Dr. Solomon is THE BEST. The reason I stand behind 5 stars is simple. I received a breast Augmentation 17 years ago and everything went beyond well. Not only did my breast look fabulous they still look fabulous after 17 years. I just left his offices for my 2nd check up in the past 17 years and they look and feel like they did when they were new. Not only did the check up cost ZERO dollars the but the cander and expertise are priceless. Look no further. Dr. Solomon is extremely honest and won't do anything that won't be perfect. Thanks DOC you Rock!
Category: reviews
Powered by Crystal Clear Digital Marketing Reviews